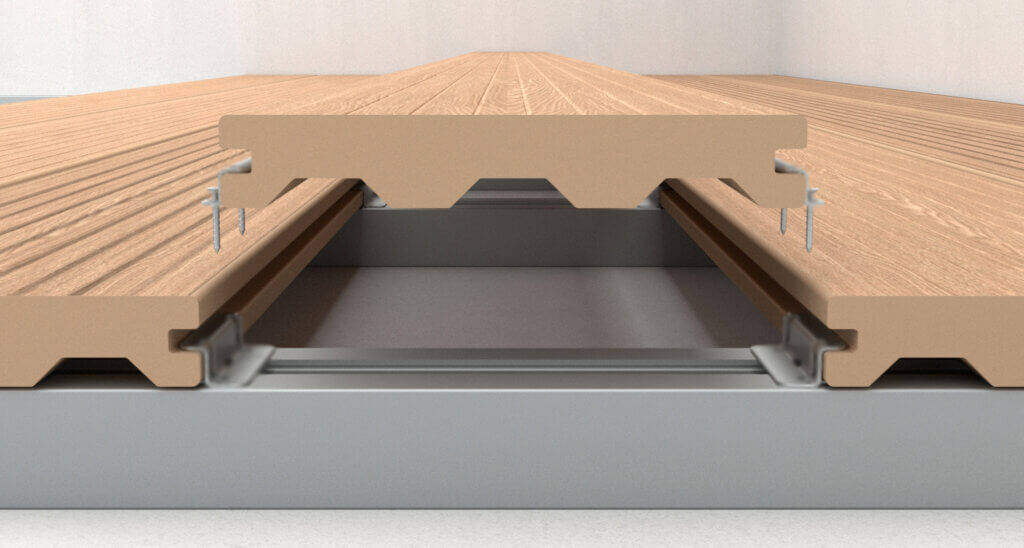 Ecolegno® by Saimex has developed an innovative fixing system for laying outdoor WPC decking: the REMOVABLE CLIPS.
The main objective of this new product is to guarantee durability and the possibility of removing the flooring and intervening only in those places where it is most needed, such as near manholes or sumps.
Made of durable stainless steel, which prevents deformation, the removable clips have several advantages including:
weather resistance, our clips will not deteriorate or rust over time;
easy removal of individual planks without having to work on the entire floor, which allows for efficient and fast maintenance;
improves substructure ventilation;
Avoids floor elevation and improves anchorage;
universal clip thanks to the adaptability of use with both a WPC and an aluminium joist.
It is possible to alternate the use of removable clips with the standard clips for traditional laying, once removed, as they do not deteriorate, they can be reused to install the WPC planks again.
The real innovation brought by this system is not having to dismantle the entire floor to work on a single area.
The removable clips are designed for use in combination with WPC flooring with Ecoshield technology, which, thanks to the protective and transparent layer on its surface, makes the product
resistant to stains, dirt and weathering, which allows for quick and easy cleaning;
resistant to moisture and saltiness;
It is characterised by a dual-colour grain that makes it very similar to wood design.